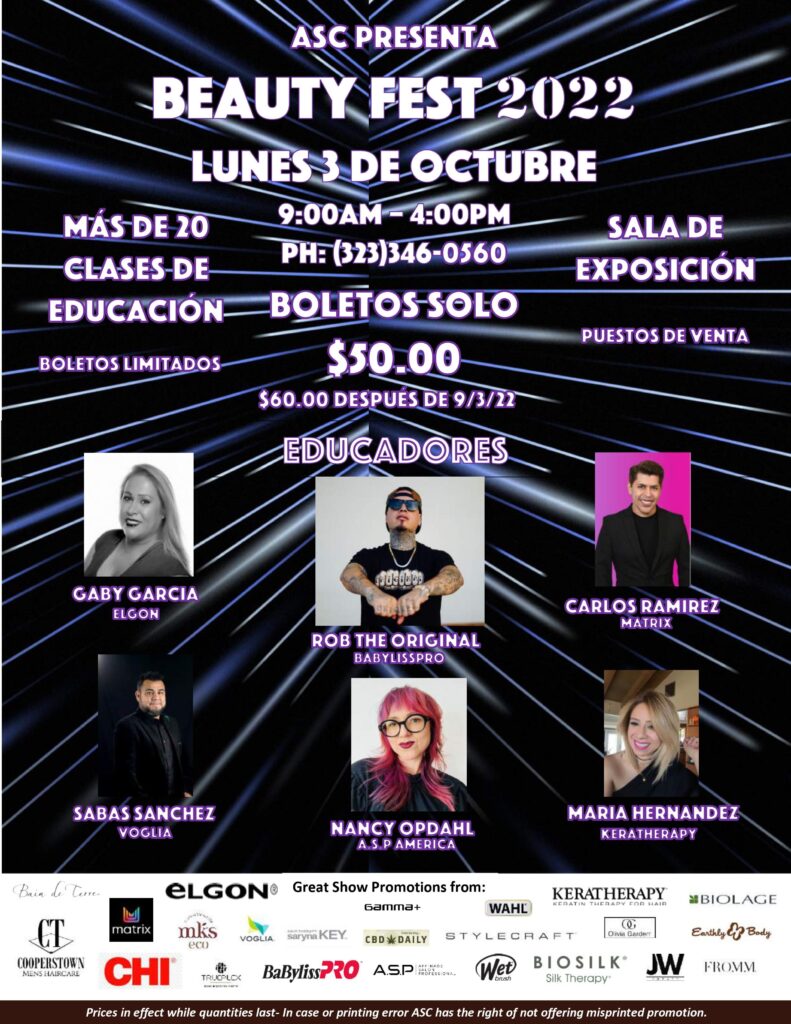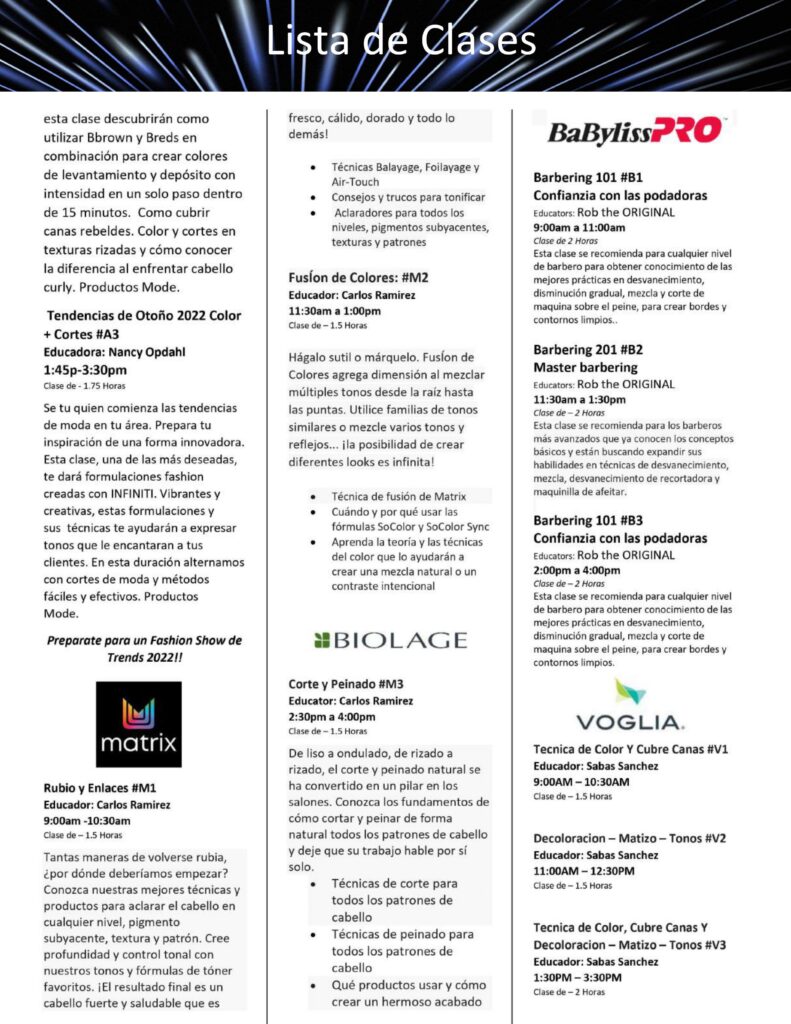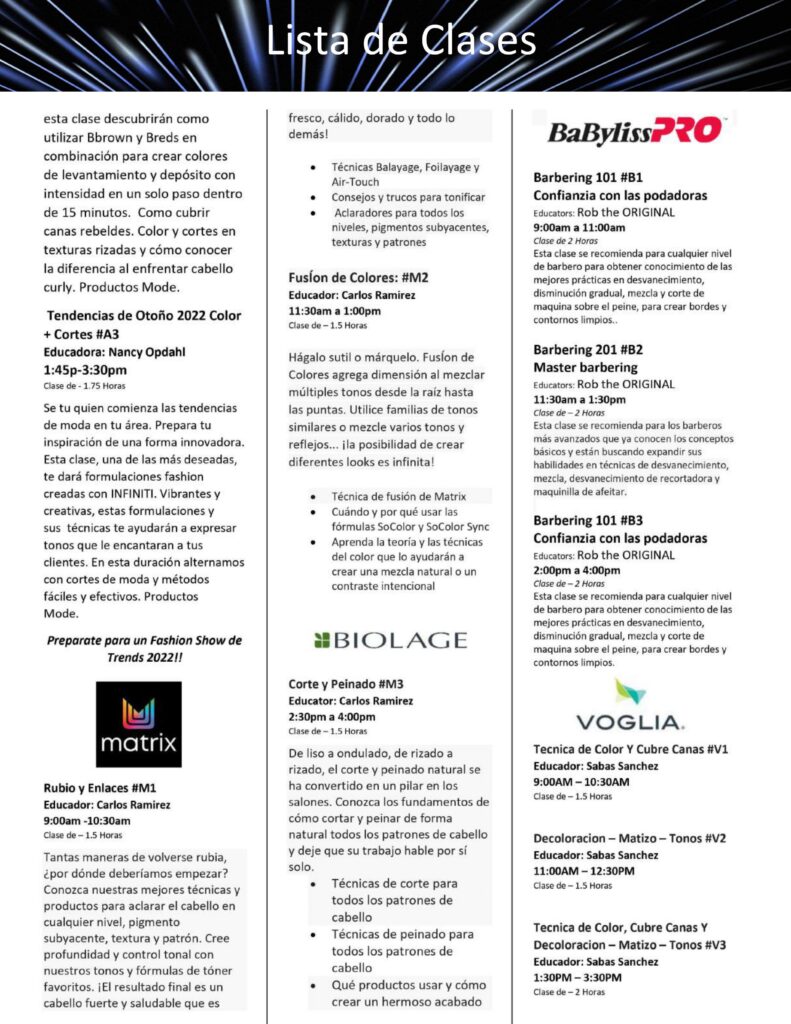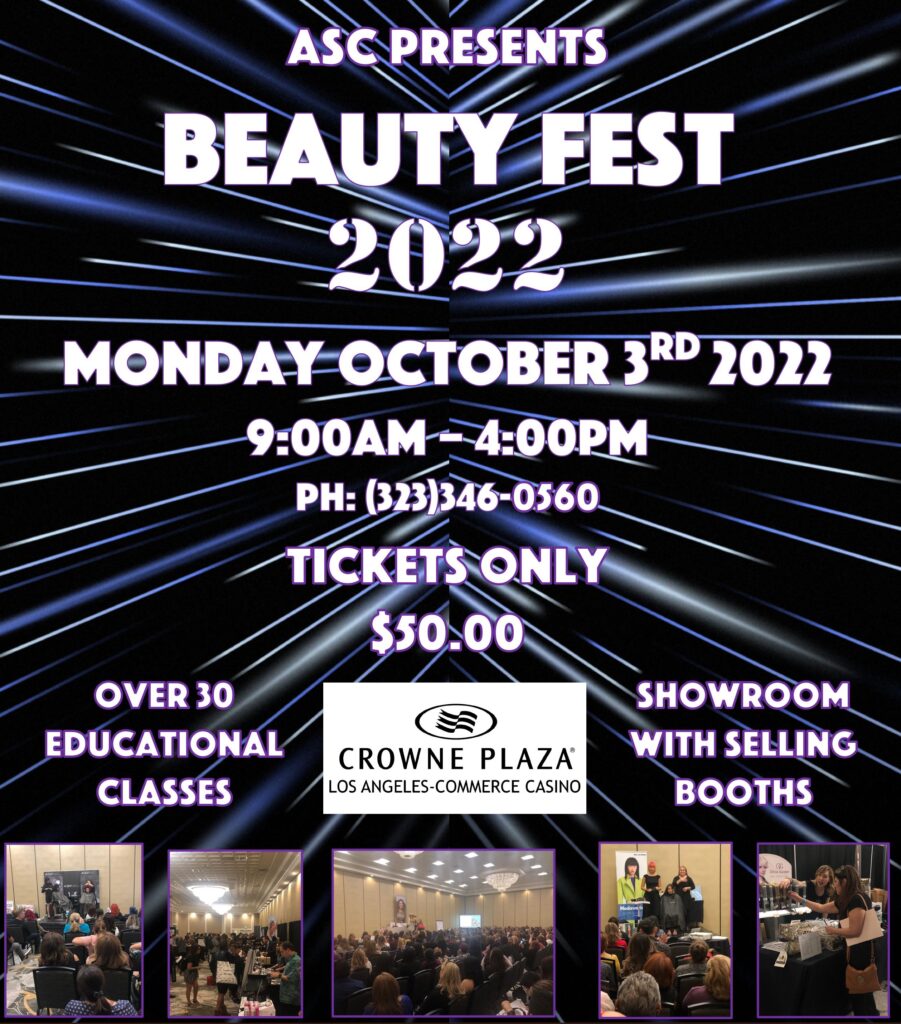 JUST ANNOUNCED – BEAUTY FEST IS BACK!!! MONDAY OCTOBER 3rd 2022
ASC Presents "Beauty Fest 2019"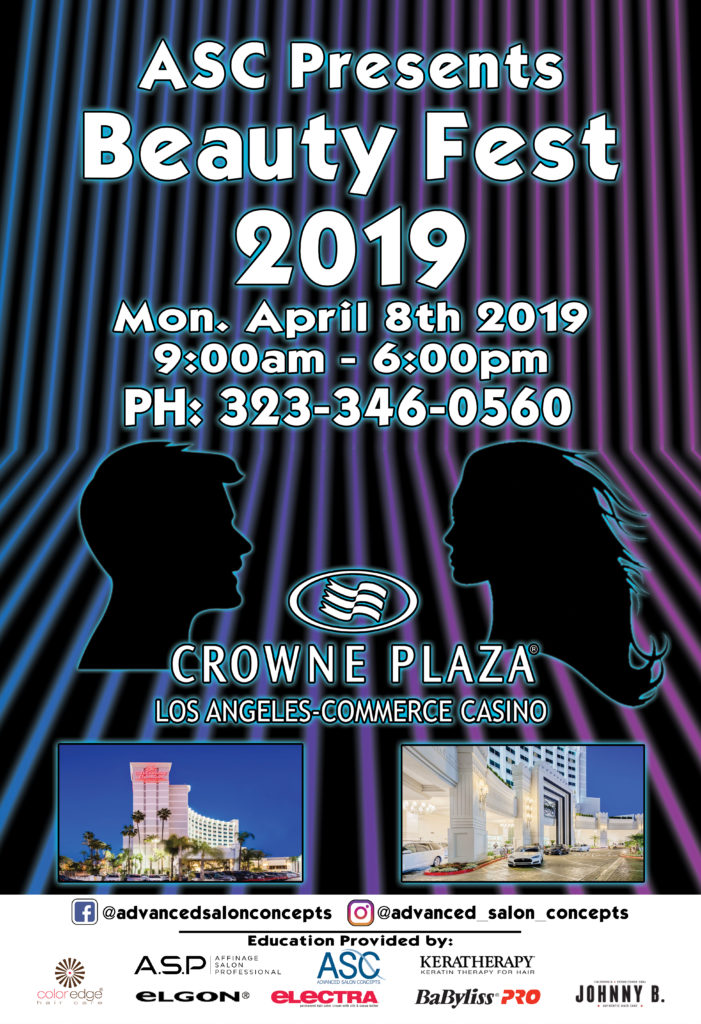 Stay Tuned for Updates!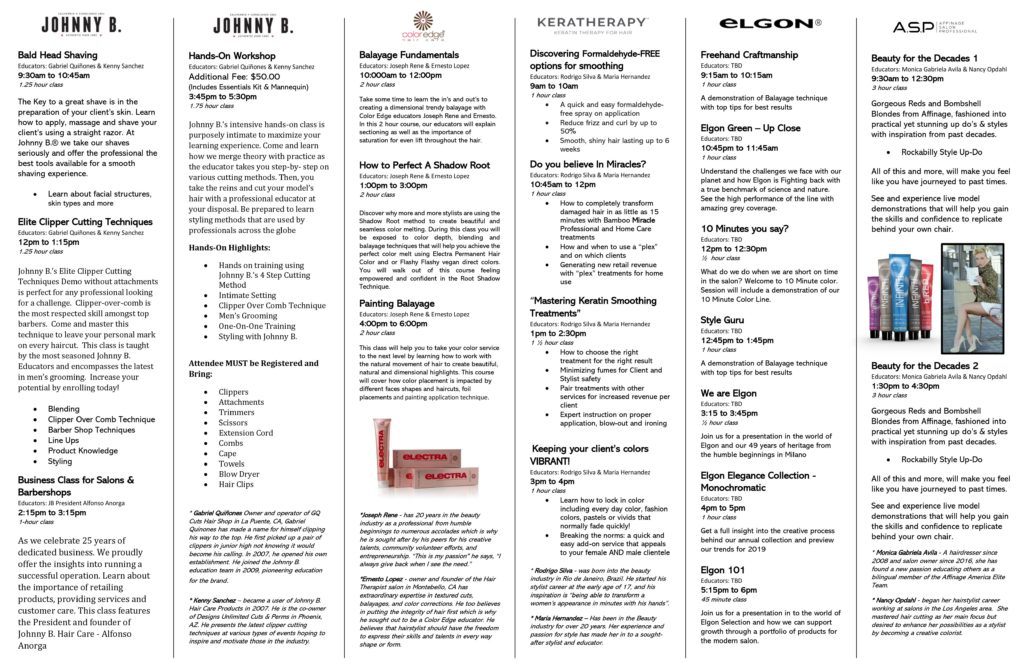 Beauty Fest 2019 Education/Class List

Bald Head Shaving
Educators: Gabriel Quiñones & Kenny Sanchez
9:30am to 10:45am
1.25 hour class
The key to a great shave is in the preparation of your client's skin. Learn how to apply, massage and shave your clients using our Johnny B. Straight-Edge Razor. This class covers step by step preparation of skin, hot towel service and proper shaving techniques on a bald head. At Johnny B. we take our shaves seriously and offer professionals the best tools possible for a smooth shaving experience.
Elite Clipper Cutting Techniques
Educators: Gabriel Quiñones & Kenny Sanchez
12pm to 1:15pm
1.25 hour class
Johnny B.'s Elite Clipper Cutting Techniques Demo without attachments is perfect for any professional looking for a challenge. Clipper-over-comb is the most respected skill amongst top barbers. Come and master this technique to leave your personal mark on every haircut. This class is taught by the most seasoned Johnny B. Educators and encompasses the latest in men's grooming. Increase your potential by enrolling today!
Blending
Clipper Over Comb Technique
Barber Shop Techniques
Line Ups
Product Knowledge
Styling
Business Class for Salons & Barbershops
Educators: JB President Alfonso Anorga
2:15pm to 3:15pm
1-hour class
As we celebrate 25 years of dedicated business. We proudly offer the insights into running a successful operation. Learn about the importance of retailing products, providing services and customer care. This class features the President and founder of Johnny B. Hair Care – Alfonso Anorga
Hands-On Workshop
Educators: Gabriel Quiñones & Kenny Sanchez
Additional Fee: $50.00
(Includes Essentials Kit & Mannequin)
3:45pm to 5:30pm
1.75 hour class
Johnny B.'s intensive hands-on class is purposely intimate to maximize your learning experience. Come and learn how we merge theory with practice as the educator takes you step-by- step on various cutting methods. Then, you take the reins and cut your model's hair with a professional educator at your disposal. Be prepared to learn styling methods that are used by professionals across the globe
Hands-On Highlights:
Hands on training using Johnny B.'s 4 Step Cutting Method
Intimate Setting
Clipper Over Comb Technique
Men's Grooming
One-On-One Training
Styling with Johnny B.
Attendee MUST be Registered and Bring:
Clippers
Attachments
Trimmers
Scissors
Extension Cord
Combs
Cape
Towels
Blow Dryer
Hair Clips
* Gabriel Quiñones Owner and operator of GQ Cuts Hair Shop in La Puente, CA, Gabriel Quinones has made a name for himself clipping his way to the top. He first picked up a pair of clippers in junior high not knowing it would become his calling. In 2007, he opened his own establishment. He joined the Johnny B. education team in 2009, pioneering education for the brand.
* Kenny Sanchez – became a user of Johnny B. Hair Care Products in 2007. He is the co-owner of Designs Unlimited Cuts & Perms in Phoenix, AZ. He presents the latest clipper cutting techniques at various types of events hoping to inspire and motivate those in the industry.

Balayage Fundamentals
Educators: Joseph Rene & Ernesto Lopez
10:000am to 12:00pm
2 hour class
Take some time to learn the in's and out's to creating a dimensional trendy balayage with Color Edge educators Joseph Rene and Ernesto. In this 2 hour course, our educators will explain sectioning as well as the importance of saturation for even lift throughout the hair.
How to Perfect A Shadow Root
Educators: Joseph Rene & Ernesto Lopez
1:00pm to 3:00pm
2 hour class
Discover why more and more stylists are using the Shadow Root method to create beautiful and seamless color melting. During this class you will be exposed to color depth, blending and balayage techniques that will help you achieve the perfect color melt using Electra Permanent Hair Color and or Flashy Flashy vegan direct colors. You will walk out of this course feeling empowered and confident in the Root Shadow Technique.
Painting Balayage
Educators: Joseph Rene & Ernesto Lopez
4:00pm to 6:00pm
2 hour class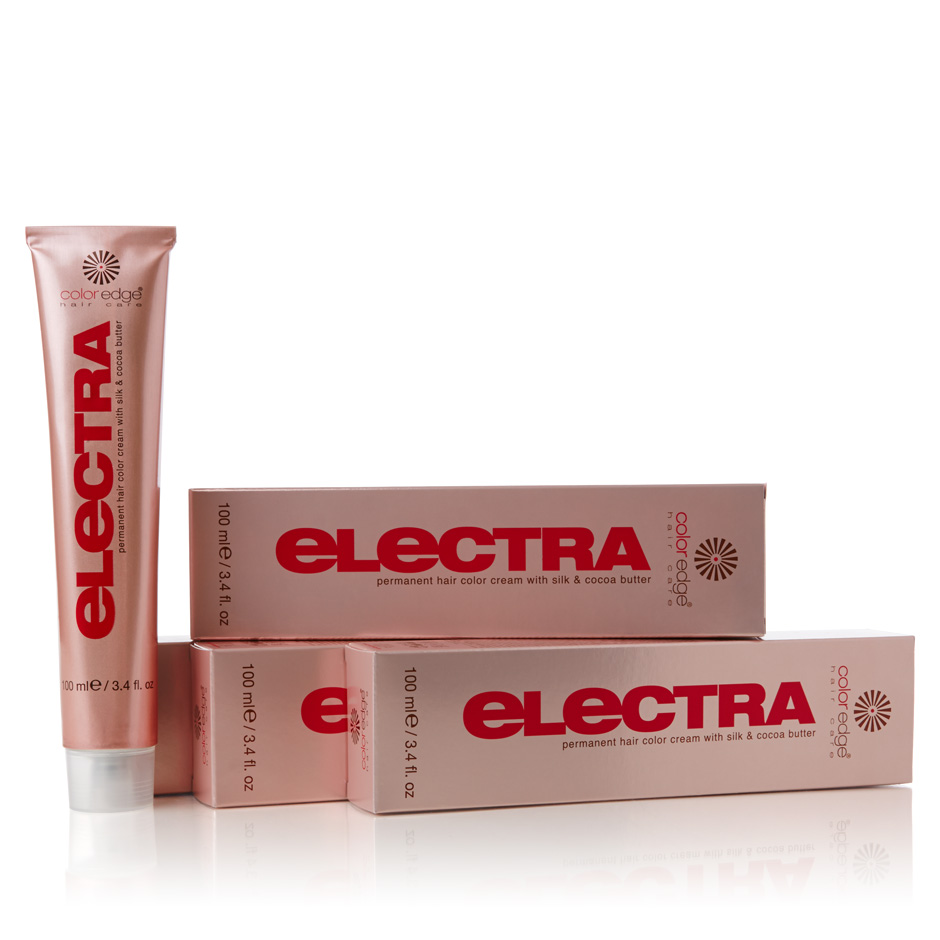 This class will help you to take your color service to the next level by learning how to work with the natural movement of hair to create beautiful, natural and dimensional highlights. This course will cover how color placement is impacted by different faces shapes and haircuts, foil placements and painting application technique.
*Joseph Rene – has 20 years in the beauty industry as a professional from humble beginnings to numerous accolades which is why he is sought after by his peers for his creative talents, community volunteer efforts, and entrepreneurship. "This is my passion" he says, "I always give back when I see the need."
*Ernesto Lopez – owner and founder of the Hair Therapist salon in Montebello, CA has extraordinary expertise in textured cuts, balayages, and color corrections. He too believes in putting the integrity of hair first which is why he sought out to be a Color Edge educator. He believes that hairstylist should have the freedom to express their skills and talents in every way shape or form.

Discovering Formaldehyde-FREE options for smoothing
Educators: Rodrigo Silva & Maria Hernandez
9am to 10am
1 hour class
A quick and easy formaldehyde-free spray on application
Reduce frizz and curl by up to 50%
Smooth, shiny hair lasting up to 6 weeks
Do you believe In Miracles?
Educators: Rodrigo Silva & Maria Hernandez
10:45am to 12pm
1 hour class
How to completely transform damaged hair in as little as 15 minutes with Bamboo Miracle Professional and Home Care treatments
How and when to use a "plex" and on which clients
Generating new retail revenue with "plex" treatments for home use
"Mastering Keratin Smoothing Treatments"
Educators: Rodrigo Silva & Maria Hernandez
1pm to 2:30pm
1 ½ hour class
How to choose the right treatment for the right result
Minimizing fumes for Client and Stylist safety
Pair treatments with other services for increased revenue per client
Expert instruction on proper application, blow-out and ironing
Keeping your client's colors VIBRANT!
Educators: Rodrigo Silva & Maria Hernandez
3pm to 4pm
1 hour class
Learn how to lock in color including every day color, fashion colors, pastels or vivids that normally fade quickly!
Breaking the norms: a quick and easy add-on service that appeals to your female AND male clientele
* Rodrigo Silva – was born into the beauty industry in Rio de Janeiro, Brazil. He started his stylist career at the early age of 17, and his inspiration is "being able to transform a women's appearance in minutes with his hands".
* Maria Hernandez – Has been in the Beauty industry for over 20 years. Her experience and passion for style has made her in to a sought-after stylist and educator.

Freehand Craftmanship
Educators: TBD
9:15am to 10:15am
1 hour class
A demonstration of Balayage technique with top tips for best results
Elgon Green – Up Close
Educators: TBD
10:45am to 11:45am
1 hour class
Understand the challenges we face with our planet and how Elgon is Fighting back with a true benchmark of science and nature. See the high performance of the line with amazing grey coverage.
10 Minutes you say?
Educators: TBD
12pm to 12:30pm
½ hour class
What do we do when we are short on time in the salon? Welcome to 10 Minute color. Session will include a demonstration of our 10 Minute Color Line.
Style Guru
Educators: TBD
12:45pm to 1:45pm
1 hour class
Models will be styled from the morning session with an insight to our top tips for styling with AFFIXX.
We are Elgon
Educators: TBD
3:15 to 3:45pm
½ hour class
Join us for a presentation in the world of Elgon and our 49 years of heritage from the humble beginnings in Milano
Elgon Elegance Collection – Monochromatic
Educators: TBD
4pm to 5pm
1 hour class
Get a full insight into the creative process behind our annual collection and preview our trends for 2019
Elgon 101
Educators: TBD
5:15pm to 6pm
45 minute class

Join us for a presentation in to the world of Elgon Selection and how we can support growth through a portfolio of products for the modern salon.
Beauty for the Decades 1
Educators: Monica Gabriela Avila & Nancy Opdahl
9:30am to 12:30pm
3 hour class
Beauty for the Decades 2
Educators: Monica Gabriela Avila & Nancy Opdahl
1:30pm to 4:30pm
3 hour class
Gorgeous Reds and Bombshell Blondes from Affinage, fashioned into practical yet stunning up do's & styles with inspiration from past decades.
All of this and more, will make you feel like you have journeyed to past times.
See and experience live model demonstrations that will help you gain the skills and confidence to replicate behind your own chair.
* Monica Gabriela Avila – A hairdresser since 2008 and salon owner since 2016, she has found a new passion educating others as a bilingual member of the Affinage America Elite Team.
* Nancy Opdahl – began her hairstylist career working at salons in the Los Angeles area. She mastered hair cutting as her main focus but desired to enhance her possibilities as a stylist by becoming a creative colorist.

Barbering 101
Confidence with clippers
Educators: Vinny Morey
10:30am to 11:30am
1 hour class
This class is recommended for any level of barber to gain knowledge of best practices in fading, tapering, blending, and clipper over comb, to create clean edges and outlines.
Barbering 201
Master barbering
Educators: Vinny Morey
1:30pm to 2:30pm
1 hour class
This class is recommended for more advanced barbers who already know the basics and are looking to expand their skills in fading, blending, trimmer flick fading, and razor techniques.
*Vinny Morey is a classically trained hairdresser from the Vidal Sassoon academy. Vinnie has owned The Proper Barber shop for the last 10 years gaining national and international accolades including Travel and Leisure Magazines number 1 ranked barber shop in the country for 3 years running. Education has always been such a huge part of Vinnie's career and that has led him to be the Creative Director for the Unite hair care brand for 3 years and now has led him to the Babyliss Barberology team where he hopes to inspire and motivate while learning and creating with such incredible artists.